StoreWALL Bike Kit - Advanced
Bike Kit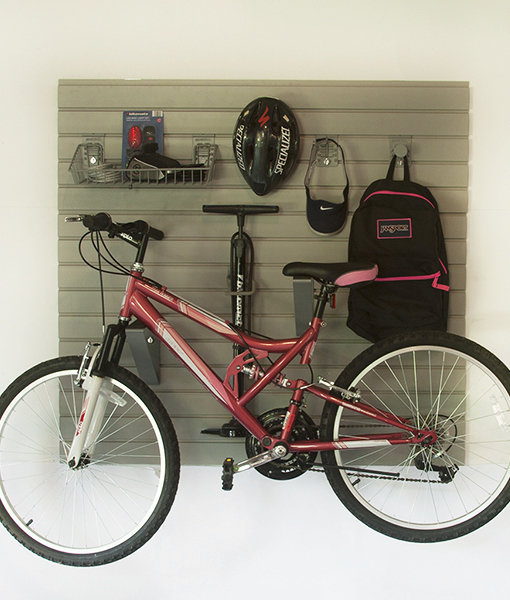 StoreWALL's Bike Kit (Advanced) keeps your bike and equipment off the floor and compactly stores it on the wall. We offer a choice of either brackets or our popular J Hook to hang your bike. When using StoreWALL's bike brackets you will also add some anti slip pads. The Easy on, easy off, anti-slip pads keep your bike in place. The Single Bike Kit includes the following:
3 x 1.2m Standard Duty wall panels
3 x InstallStrips
1 x Bike Bracket Set (2 x 381mm brackets) or
2 x J Hooks (so you can hang 2 x bikes vertically)
1 x S Hook
1 x Disc Hook
2 x 63mm Single Hooks
1 x Small Angle Basket
Installed Dimensions: 1143mm in height and 1219 in width.
Screws are sold separately and can also be purchased from your local hardware store.
Hanging Options
2 x Bike Brackets (51.1) 2 x J Hooks (48.24) 2 x Anti-Slip Pads (2.5)